Purpose
Favorites is a way of creating an easy-to-navigate reference list of time series. Here you will be introduced to two main use cases for favorites, looking at how to mark time series as favorites, saving them to different accounts, how to organize your favorites into folders, and adding comments.
What is this helpful for?
There are two main use cases for favorites:
quick access to time series
consistent data use across teams
Favorites can be saved to your personal account for quick access to the time series you use most often.
Alternatively, if the choice of time series needs to remain consistent across a department or company, you can use favorites as a reference list. So, instead of having to check for example which time series to use for German GDP, you can use the favorites tab to access the correct series directly.
How it works
Let's assume that you have the series you want to favorite on the screen. Right click on this series and select add to favorites list from the context menu that pops up.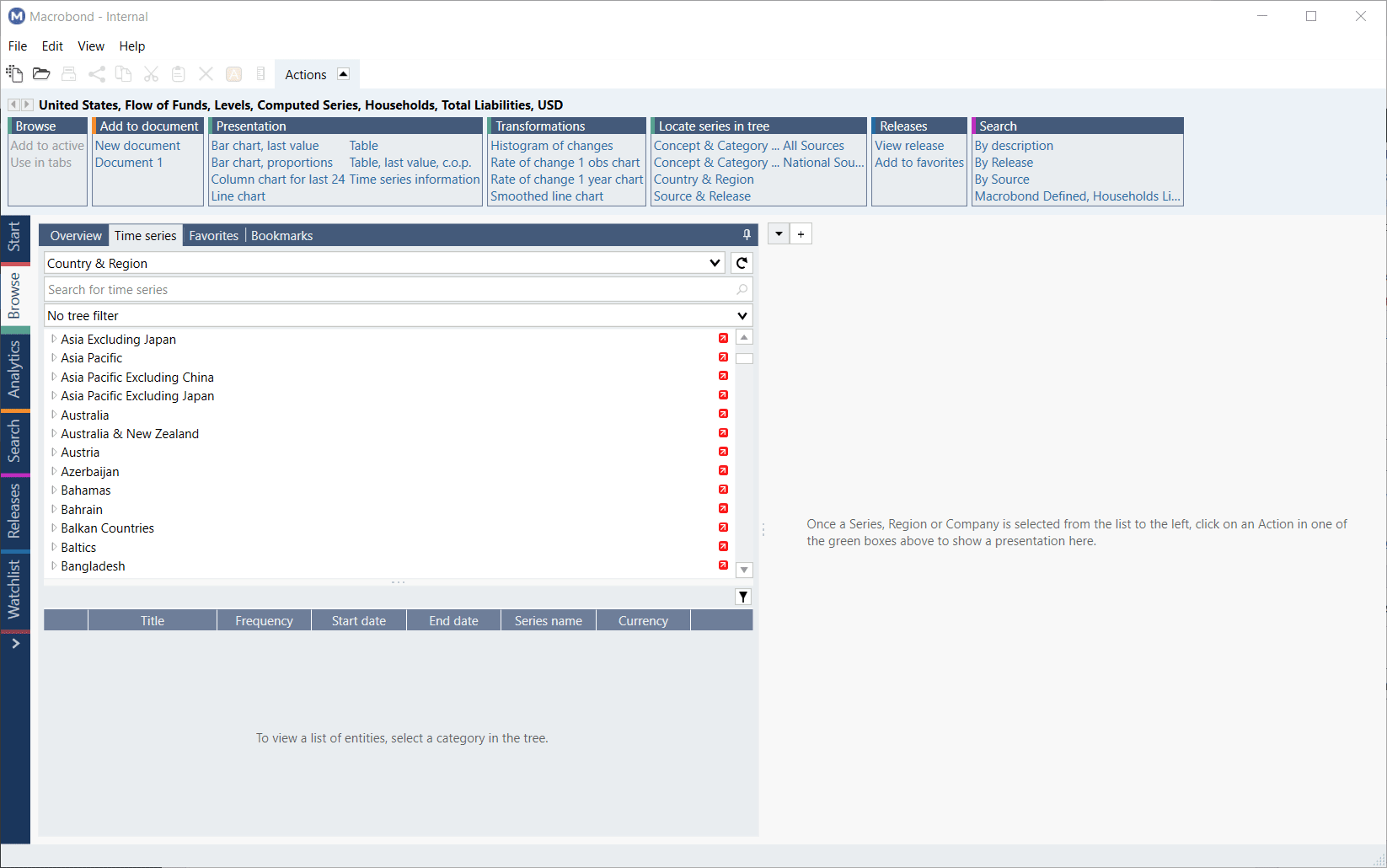 Once this option is selected, a dialog box will appear, prompting you to select an account.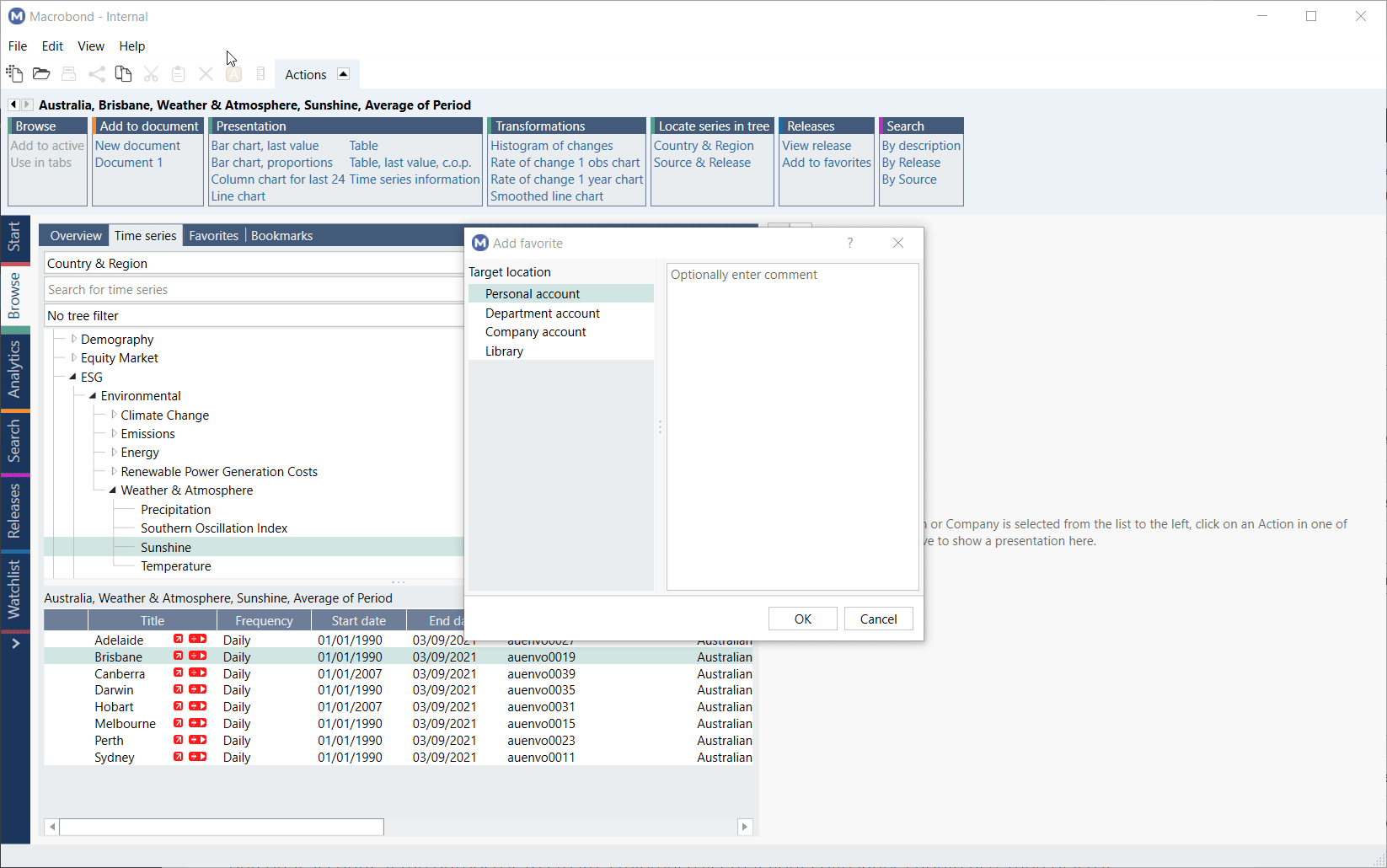 When you're not in the Favorites tab, favorited series will be marked in the tree with a yellow star. So, to avoid having a multitude of yellow stars visible to everyone, make sure to select an account based on how you'll be using the favorite. If it's simply for your personal convenience, it's best to save it to your personal account. If the purpose is to create a reference list that your colleagues should use, then place it in the department or company account, accordingly.
Favorites folders
If you plan to tag more than a handful of favorites, you'll want to organize them into groups using the 'New Folder' button, especially when it's for department- or company-wide reference. You can use the cut or copy, and paste command to add time series to the relevant folders.
Once you have created folders for your favorites, you can tag and save series directly to the relevant folder.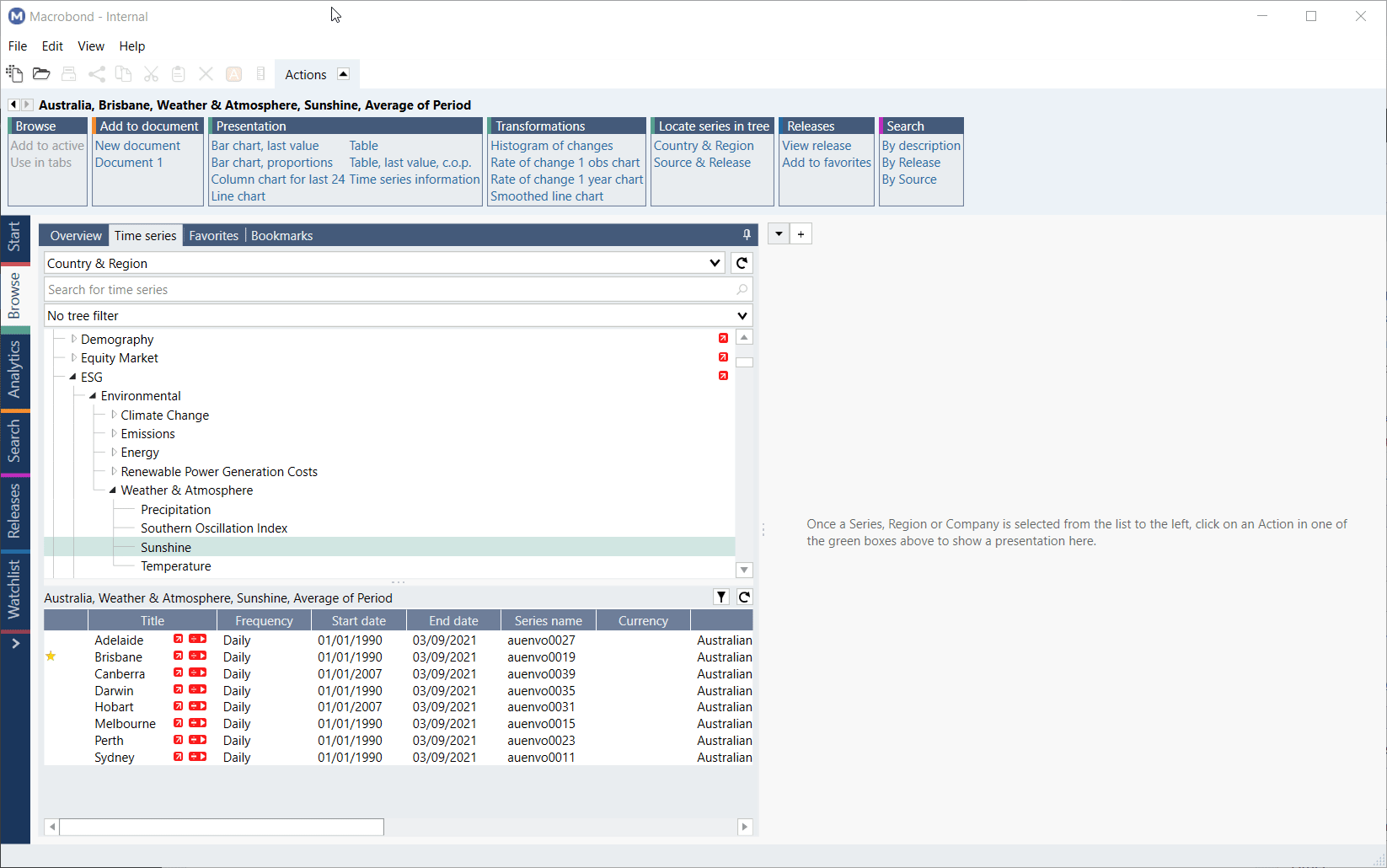 Once you have created folders for your favorites, you can tag and save series directly to the relevant folder. It's common that an organization or department may want to specify which of these time series should be used. In this case, you simply tag the given series as a favorite and save it to the relevant public account.
Comments
Adding comments
It is worth to mention that there is a field for adding comments when saving a favorite – this can be used to provide information about why the series has been tagged.

Highlighting comments
If you open the Favorites tab you'll notice the yellow star, this is used throughout the application to indicate that a series has been favorited. Hovering the cursor over the star will display the comment, as well as who added it, and a time stamp.

Editing the comments
If you want to edit the comment, highlight the relevant series, press F2 or right click and select Edit favorite(s) from the context menu.

Creating Favorites from different activities
You can create favorites when viewing time series in Browse, Analytics, Search and even in the Excel add-on. Simply follow steps mentioned above.