You can easily publish a Macrobond chart on the web. It can be featured in a blog, on a social media platform, or on a website. This window allows you to customize the document before publishing.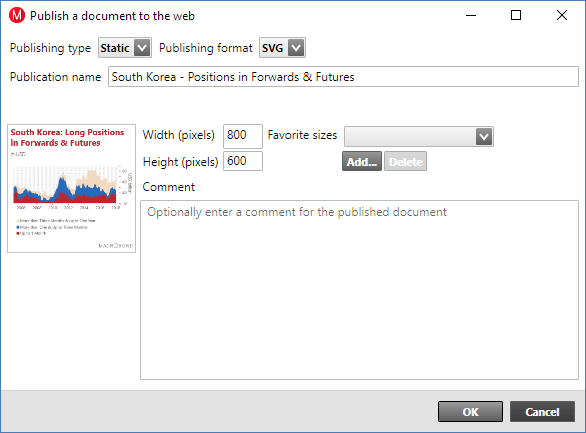 Publishing type
Dynamic
Choose this option if you would like your chart to be updated when new data is released or when changes are made to the Macrobond document
Static
Select this option if you would like to publish the chart as a static picture
Publishing format
Select between publishing the chart in PNG and SVG format. With SVG format, the picture will remain sharp if resized.
Size
You can specify the desired width and height of the published chart. Favorite sizes allows you to choose among common chart sizes or save your own by clicking add.
Note: The capacity for published images is limited. You can store up to 3 dynamic and 10 static documents at one time. The number of charts that can be published can be increased as an add-on service.