5. Saving and Presenting your work
The selection of the materials in this section will introduce you to the options for saving, sharing, presenting, and publishing, as well as keeping your work updated and relevant to avoid re-creating the same documents from scratch.
Saving and Presenting your work - overview video
The transcript
[01 Introduction]
You've found the data, added it to a document, maybe even performed a few calculations and adjusted the appearance of your charts or tables. This is great! But now you need to present your work, whether it's to colleagues or clients, in a PowerPoint, a print or digital publication or even online. This video will introduce you to the options for saving, sharing, presenting, and publishing, as well as keeping your work updated and relevant to avoid re-creating the same documents from scratch.
[02 Storing documents]
Your work can be stored, shared, re-used and updated when you save it, whether you do so internally or to Macrobond servers. You can save to a team, department or company account. A great benefit is that any of your colleagues can understand what data was used, which calculations were performed and even duplicate documents to build something new. This can all be done from any computer running the application. For sensitive or private work, you can always save documents to your personal Macrobond account, so that you have the benefit of continuity, while maintaining privacy.
[03 In the Presentation document]
Using presentation documents is an efficient way to organize and present collections of charts. Charts can be sorted into various folders and pages within a Presentation document. Because Presentation documents open in a separate window, outside the application, this gives you the flexibility and control to present charts in an environment fit for purpose, where navigating between topics by folder, pages or charts is simple. An added benefit is that any changes to charts made in the application are displayed in real-time in the presentation document window.
[04 Copy and Refresh in an Office document]
For those of you who use Office documents to share or present your work, the Copy/Paste function is a quick and easy way of doing so. Because Macrobond is fully integrated with Word, PowerPoint and Excel you can easily update the data in a single chart or entire document, via the Refresh button.
[05 Modifying Office chart in the Macrobond application]
For those charts you've already placed in Office documents, there's a very simple way of making changes. By double clicking on the chart you open it in the application and the changes you make will automatically be reflected in the 'chart saved to the Office document to'.
[06 Exporting charts as images]
To export Charts or Tables for use in print and digital publications, you have a number of different file formats to choose from. Which you choose depends on how the file will be used.
[07 Send to Twitter]
And finally, for a more instantaneous sort of publication, you can either tweet your charts straight from the application or use the web publish function to generate a URL or HTML code for publication on a website or blog.
[08 Final comments]
Now that you have a basic idea of which options you have for saving and presenting your work, you can find step by step instructions on using these features and tools in the proceeding segments of the curriculum.
Creating and modifying a Presentation document - video
The transcript
[01 Introduction to Presentation documents]
As the name suggests, Presentation documents are used to organize charts and tables so that you can easily and professionally display an overview of your work. The Presentation document window opens outside the application to give you more flexibility when building, comparing, presenting and sharing charts. In this video, we'll introduce you to the basic concepts you'll need to know to start creating presentation documents.
[02 Introducing the concept of 'chart books']
One of the functions of Presentation documents is to serve as an interactive chart library, organized to present ideas logically. Your charts can be organized by pages and in folders.
[03 Creating a new Presentation document - introduction]
Let's start by creating a new Presentation document that could be used to review a collection of macroeconomic and financial indicators. For our example, we'll look at the US and Japanese economies, as well as some emerging markets currencies.
[04 Creating a new Presentation document – adding charts]
There are a few different ways to add a chart to a presentation. First of all, make sure to select the chart you want to add in the analysis tree. To add this chart, you can either click on the Present button in the command bar, use the Ctrl+Q shortcut or right click on the chart in the Analysis tree, and select In new Presentation document.
This will generate a new presentation document, in a separate window with all the presentation document settings.
[05 Adding charts to already existing Presentation document – 1st method]
To add the rest of the charts to the same document, right click and select Add to Presentation document from the context menu.
[06 Adding charts to already existing Presentation document – 2nd method]
Another way to add charts to a presentation is from the presentation window, where you can simply click on Add document and select from your saved documents.
[07 Creating folders in your 'chart book']
As you can see, all the charts you add are listed in the Overview section on the left. If you want to organize these charts you can use pages and folders to provide some structure to the presentation. We'll start by clicking on Add folder under the Home tab.
[08 Renaming folders]
To name a folder, right click and select rename from the context menu and start typing.
[09 Moving charts to folders]
And then simply drag your charts into the relevant folders.
[10 Introducing Pages]
As you can see you now have a nicely organized presentation. But let's say you want to show multiple charts at once. In that case you simply add a page to the relevant folder, name it in the same way as before and drag and drop the charts you want to display on that page.
[11 Links to charts in the Presentation documents]
It's important to remember that charts are added to Presentation Documents with links to the Macrobond documents they were built in. So, you'll have to make sure the documents are saved before adding charts to a presentation.
[12 Sharing and saving to shared accounts]
If you want other people in your team or organization to have access to your presentations, you should save the underlying Macrobond documents, as well as the presentation document, to an account your colleagues have access to.
[13 Further features presented in the other videos]
Now that you know how to create and organize a presentation document you can go ahead and have a look at the follow up learning materials. We'll be covering how to adjust the appearance of your presentations, export them to PowerPoint and a few other useful features that make it easier work with charts.
Saving documents
Below we'll go over the options you have when calling up the Save document dialog
How to save
Saving for shared access
Organizing you documents
Refreshing saved files to reflect the latest data
Publishing documents online
How to save
You have two options for accessing the save settings:
Click on the save button in the tool bar



Click on File in the menu bar and select Save as


Save settings
The Save document dialog is made up of four main parts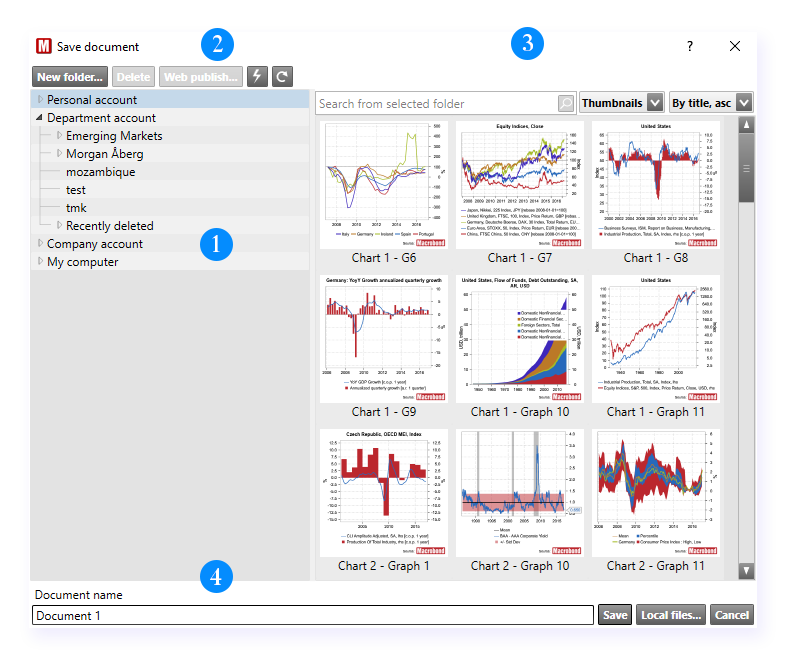 List of Directories

View and select the available locations for saving.
There are four main directories to choose from. Each of these has implications for how you access your documents and who you grant access to.


Personal account

Access is limited to you
Files are saved on Macrobond servers which means you can access them where ever you log in with your user credentials

Department account

Access is given to all Macrobond users in a department or team
Each user can only be assigned to one department account
Files saved on Macrobond servers

Company account

Access is given to all Macrobond users in the organization
Files saved on Macrobond servers

My computer

Saved to your computer or network
Can be viewed in Macrobond by anyone who has access to the physical file
File information & preview
Preview the files in a selected directory or folder
Set the display to a thumbnail or file name view
Use search to locate specific documents
Command buttons
Create and delete folders
Publish documents online
Update documents to reflect the latest data
Name bar and confirmation buttons
Name the document
Select a local directory to save to (if not selecting one of the four listed above)
Confirm or abandon the action
Saving calculation as in-house series - video
The transcript
[01 Introduction]
In this video, we'll go through saving calculated output as a new Macrobond series, how to access and use them in other documents. And how to edit the underlying calculations.
[02 What is a calculated series?]
To start off, let's define the terms calculated series and in-house series. In Macrobond, a calculated series is the output series resulting from various analyses. An in-house series is your own series that you decide to save and access via the application. Saving a calculation as an in-house series allows you to access and reuse the output of your calculations at a later date, without having to reproduce the calculations on the original data.
[03 Accessing Saving calculations as in-house series feature]
Let's say you've applied the necessary calculations to the data and are ready to save the calculated output as a series. The first thing to do is add a time table as a branch of the analysis you want to save. Then, click on a series to select it and then right-click to open the context menu.
[04 Creating in-house series from calculation]
You have two options for saving. If you choose Save values as in-house series, the values will copied as a snapshot, meaning that the series will not be updated in the future. On the other hand, if you select Save calculation as in-house series the underlying calculation is saved, allowing it to be updated automatically when new values are available. We'll choose this option.
[05 In-house series settings]
The next step is to enter the settings. First, decide where you want the series to be saved. You can save it to your personal account, or to a shared account depending on how you want it used. Next enter a document name, at the top. This will be the name of the file in which the application stores the calculation. Now, add the Series name. Both the file and series names should be given in lowercase letters. Choose a description for the series and specify the rest of the settings to classify where the series will be located in the tree. To confirm click OK. A new document containing the calculations will appear. You can close it for now.
[06 Opening the in-house series]
So, let's try using this series in a new document. As with any other series you'll find it by selecting the relevant database from the drop-down menu, in cases like this it's Account in-house. As usual, double click to add the series to the document.
[07 Editing in-house series 1]
To edit your in-house series or review the underlying calculations go to the My series tab. Since we've just opened the series in a document, the quickest way to call it up is to use the Actions group. In the My series box, here, you can click on in-house series to display the last series you selected from the in-house account. Click Edit to open the source document.
[08 Editing in-house series 2]
To change the settings and information assigned to your series, select my calculated series in the tree, and click on the edit button.
Make changes to the calculations of your series, as you normally would, and remember to save the document when you close it. These changes will be reflected in any document containing that calculated series once you do so.
Return to the main page of Macrobond Learning Resources